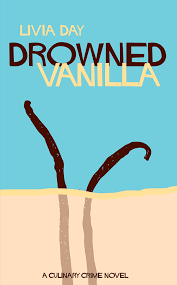 Drowned Vanilla is a deliciously intriguing Tasmanian tale of missing girls and murder. A young woman drowns in a lake, a beautiful student disappears, and unlikely amateur sleuth Tabitha Darling and her friends set out to investigate. I grew up in Tasmania, and this novel's setting in the sandstone lined streets of Hobart and its beautiful surrounds was particularly appealing to me. I spent many holidays visiting my strict, old-fashioned and ladylike grandmother in Sandy Bay. She took us swimming at Nutgrove Beach, and to visit historic places of interest, from Battery Point and the Salamanca wharves to the museums and historic houses in the city. This story brought back lots of nice memories.
One of the most original crime novels I've read in ages, this second novel in the Cafe la Femme series sparkles with author Livia Day's unique brand of murder-mystery served with a triple helping of mouthwatering desserts, vintage fashion and romantic tension. As a protagonist Tabitha is one of the best in her business – bright, energetic, passionate and endearing. It's never certain whether she will solve the crime, or be side tracked by one of her handsome boyfriends, but I was on her side the entire way. This is a screwball comedy in many ways, with no sordid or horrific details of the crimes: if this novel was a movie I could have happily taken my Grandma to see it.
However, this novel is not all toffee and fairy floss-flavoured ice-cream. Serious considerations lie beneath the sweet surface: Livia Day writes intelligently about the complex challenges Tasmanians face, including unemployment, education and environmental issues. These ideas indirectly drive the narrative – for example, the tendency of young people in Tasmania to abandon the small towns to pursue greater things in either Launceston or Hobart, or on the mainland. Livia Day is gifted at writing humour, and she has published a long list of novels under a different name, in the speculative fiction category, however I would be curious to read more of her serious ideas about Tasmania and Tasmanians.
A wonderful, exuberant and quirky novel that warms your heart, makes you laugh, and keeps you turning the pages until the very last.